General Electric Profile / Monogram / Arctica / Hotpoint / GE Refrigerator Repair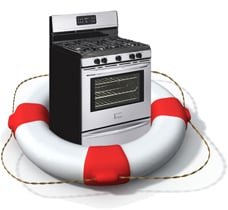 First Choice Appliance Service is your first and best choice in CdA if your General Electric GE refrigerator needs service or repair. Here is why:
Our technicians are among those few who completely mastered diagnosis and repair of newer electronically controlled General Electric refrigerators, including GE Profile, GE Arctica, GE Monogram and Hotpoint. We also have most parts in stock. So we can repair your refrigerator in one visit. Plus, we don't charge an arm and a leg for our service.
If your GE or Hotpoint refrigerator was made after year 2000, all of its functions are controlled by a microcomputer. Additionally, It has multiple electronic control boards and multiple sensors. Fan motors, dampers, icemaker, and dispenser are all digitally controlled by the microcomputer. GE Monogram and some of GE Profile branded fridges also have variable speed compressor and a 3-phase inverter to run that compressor. Thus, diagnostics of such refrigerators can be challenging even to seasoned technicians.
Correct diagnosis in many cases requires the technician to use GE service manuals specific to the refrigerator model being serviced. Without those manuals in some situations one can only guess which components of the fridge are making the problem. And guess what?… not all GE refrigerator service manuals are error-free! We know those errors. We repaired hundreds of General Electric refrigerators, so we have a deep understanding of those refrigerators' functions.
Rest assured, we will diagnose and repair your GE refrigerator right, so you won't end up spending your money on unnecessary parts or repairs.